For some mothers, keeping their baby well-groomed is one of the pleasant activities of the routine, showing their clothes combined with accessories such as hats, bands and jewelry. There are even jewelry stores specializing in children, with bracelets with space to engrave the name, chains and earrings. But how much can the use of this type of equipment pose a danger to the little one?
"For the safety of babies, the main thing is to pay attention to models, shapes and types of materials that can be dangerous. Recognizing potential risks to choking, ingestion, perforations or allergies is very important and can guide safer choices", warns pediatrician Renata Rodrigues Aniceto, member of the Scientific Department of Ambulatory Pediatrics of the Brazilian Society of Pediatrics (SBP).
While the list of risks may sound overwhelming, there's no need to rush and take all your baby's accessories away. We talked to experts to understand how to recognize dangerous situations and the best way to avoid them:
The first point of attention when thinking about children's accessories is their material. "Nickel is the main agent that causes allergic contact dermatitis and costume jewelry is usually made of this metal", reinforces pediatrician Caroline Peev, from Hospital Infantil Sabará. Also pay attention to parts made of plastic, synthetic and artificially colored materials.
the ideal is prefer items that are made of gold and silver, less allergenic materials and be aware if the little one has redness at the site, pain and itching, with the appearance of blisters that, when they break, cause a wound.
The baby usually has the reflex to put objects in the mouth. "Larger shaped earrings, pegs, necklaces and bracelets beads, due to their size, can impact several points in the child's airways, leading to suffocation and risk of respiratory arrest", says Aniceto.
Even smaller accessories, such as earrings and stones, can be swallowed and cause some internal injury, despite having a lower potential for impact on the airways. Therefore, Ideally, these items should only be handled by the parents, who should also supervise their children's use.
Using chains while sleeping can be a problem. "The baby can roll around in the crib at sleep, pull the necklace thinking it's a toy, or the chain can get tangled up in the sheet", exemplifies Peev. To avoid any possibility of suffocation, the recommended thing is to remove the accessory from the little one before taking him to bed.
Some accessories, such as rings, can get tight too quickly, causing problems with finger circulation and even gangrene. "Children have a faster growth rate. If the change in circulation is not noticed in a baby's finger, for example, surgery may be necessary to remove the affected area", considers Peev. With this warning, worth rethinking the use of the item by the little one.
The problem with gold and silver accessories is that they are often hard and, in a fall or impact, can hurt. It is difficult to predict what a child might do by playing alone or with others, so items pose a potential risk. "I've seen the case of a two-year-old with a neck injury from wearing a necklace: the older brother got his hand twisted while they were playing," says Peev.
In addition to necklaces, rings and bracelets can tangle with other objects, hurting the little one when trying to get free. Objects made of nylon also carry the risk of serious cuts in very small babies. Soon, the ideal is to leave your child without this type of accessory when playing around!
Even if the child does not swallow the object that he puts in his mouth, he can try to bite it and cause some kind of injury to his gum, such as cuts or scratches. Depending on how strong he uses and how old he is, teething can also be harmed. Therefore, the reinforcement is that the use of these accessories requires parental monitoring at all times!
Continues after advertising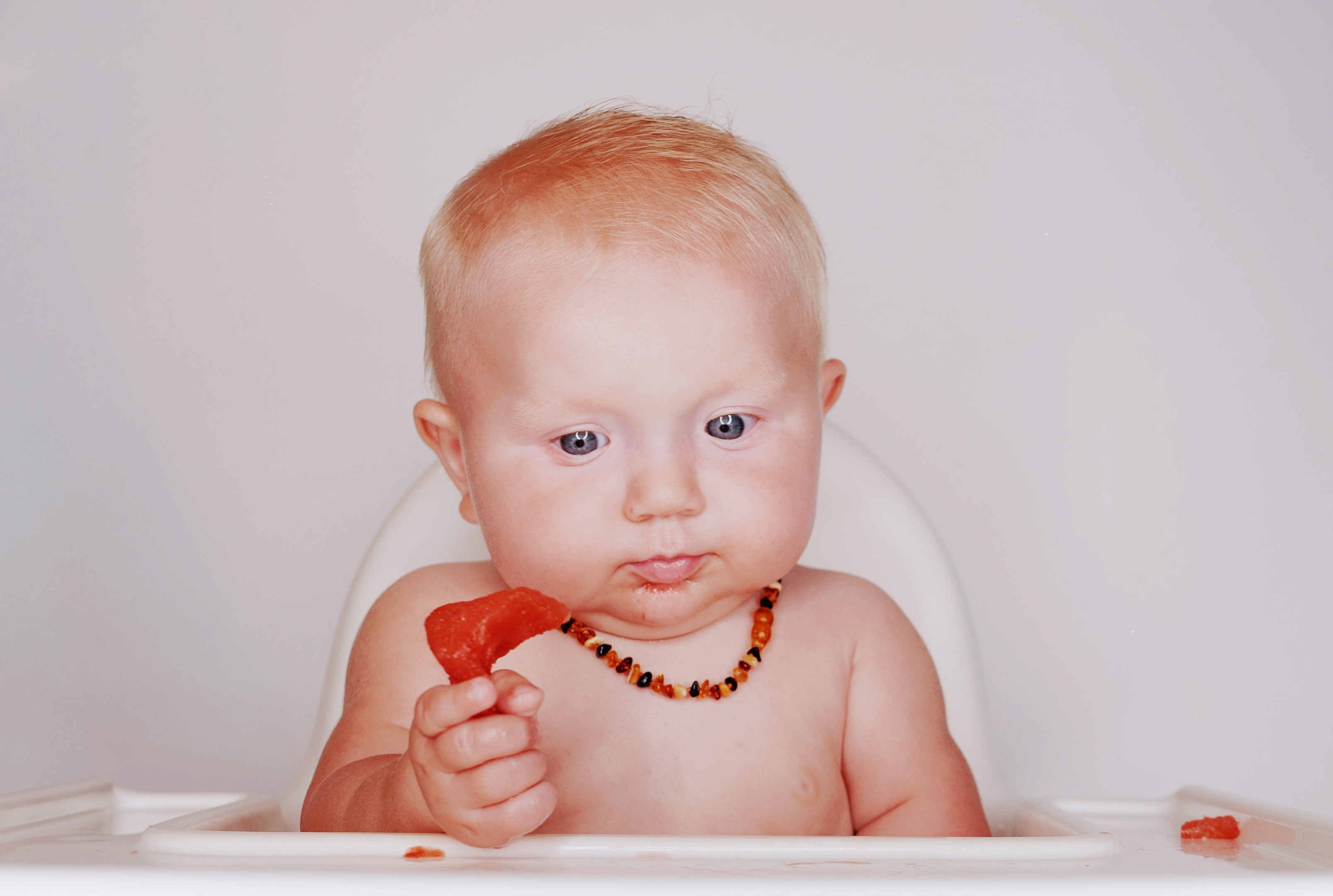 Oh, and the amber necklaces?
In social networks, influencers show that to avoid the birth pains of babies' first teeth they use the famous amber necklaces. However, there is no scientific evidence that the accessory prevents or has any positive impact on this transient discomfort. So, the risks mentioned are the same as when we talk about the use of any other type of children's chain.
Still on amber, Peev warns about the origin of the product. "The biggest aggravating factor is that currently, to make the necklace cheaper, they have been made of plastic or other materials that can cause allergies.", considers the pediatrician.
Close attention to

magnets

!
In addition to the other points of attention already mentioned, a problem that needs attention from parents is the ingestion of magnets, which can be present in some accessory fasteners. This type of material could make it easier to fit necklaces and bracelets on the baby, for example. But he is quite dangerous.
"When more than one magnet is ingested at the same time, they can attract each other inside the body and cause damage. There have been reports of cases of magnetic action between magnets in the intestine leading to tissue perforation and the need for emergency surgery", recalls Aniceto.
Lead contamination should be considered
Lead contagion can also cause different problems, especially in young children. However, it is important to emphasize that these damages only occur after a chronic exposure to heavy metal, that is, constant.
"It's more serious for babies and children under five, because it causes (potentially irreversible) damage to their brains, with lifelong neurological, cognitive and physical impairment. In addition, lead can be deposited in teeth and bones", considers Aniceto.
Heavy metal can be absorbed by the baby's body when he swallows objects that contain it, such as some types of jewelry. "It is worth remembering that we are currently exposed to several sources of lead, such as in water from pipes, paints and solders in cans of food and spices, cosmetics and toys", lists the specialist.
What to consider when having a baby's ear pierced
And since we are talking about accessories, it makes sense to also mention the act of piercing the baby's ear. On the behavioral side, the parents' decision goes through a long discussion about whether or not it is a disrespect for the child's choices and even a gender imposition. From the medical perspective, the answer is more objective: there are no problems in doing this after two months of age, so the baby is already protected from tetanus due to vaccination, as Aniceto recalls.
You just have to be careful and, preferably, take the little one to a place already known and with reliable hygiene, as the hole can open doors to infectious agents, such as bacteria and viruses, causing inflammation – however, cases are rare . "Healing may also not be adequate, bringing chances of keloids," adds Peev.
So when can the child wear jewelry and costume jewelry?
With all these points exposed, the question remains if there is an age at which it is more recommended to start putting accessories on the baby, however, there is no single answer! "Up to the age of two, the child is in the oral phase of emotional development and this is the period in which he tends to take various objects and toys to his mouth. Following this reasoning, the ideal moment for the use of jewelry happens after this age, with the maturation of the period", considers Renata Aniceto.
However, you may prefer to hope that your little one understands the hazards of objects better and is able to be more careful. "In my opinion, accessories should be aimed at children over five years old," says Peev.
Continues after advertising