Just imagining it, you can feel the warmth of entering a room filled with pieces that were made with care for that baby that is coming or to make the children happy. And if there is something that automatically refers to this care of the family in the decoration, it is the authorial pieces that use manual techniques or that resemble "grandma's house". So no matter how much time passes, knitting and crochet continue with guaranteed space in the

and in homes around the world.
Timeless, they survive the fads and lend a welcoming air to the room, whether through a pillow crocheted by a loved one or with a modern thick knitted blanket – a hit on the internet! "Are pieces passed from generation to generation, despite having a contemporary style. This happens because knitting can be produced in patterns that are in high demand at a certain time", says architect Fernanda Rubatino. "And as they are handcrafted, we can choose colors and models that match all styles", agrees as well. architect Pati Cillo.
Below, we separate tips given by these experts and examples that we mine on Instagram for you to understand all the charm of manual techniques.
1. Bet on wefts and colors
And it's exactly in this mix of classic with the contemporary that lives the grace of this design feature. As the architect pointed out, a good idea is invest in different stitches, weaves and materials that are in fashion.
"The mix of textures is also always very welcome and to guarantee an environment without exaggeration, the secret is to choose neutral tones and opt for different sizes of wefts, using the most delicate patterns in larger quantities and larger, more open wefts, as pieces of prominence", indicates the architect Fernanda.
Patrícia Parsequian, creator of @crochetcomapaty, an e-commerce specializing in crochet pieces, also agrees. "Give space between them so that it doesn't get tiring. Mix and play with the textures, using, for example, crochet baskets on a fabric rug", he says.
2. But in moderation, okay?
Yes, the old trousseaus all using manual techniques can be retired! Parts punctual and striking are best bets into the children's room.
"There are several amazing options using knitting, in addition to the more conventional ones like blankets. The crochet ottomans, in addition to being beautiful and comfortable, are super versatile and can remain in the bedroom as the child grows or even be used in other areas of the house", explains Fernanda.
"In addition to the amigurumis (Japanese technique for creating dolls in knitting or crochet), which are very popular, there are also items that delight in the decoration, such as crochet animal blankets to heat and decorate, baskets for pharmacy items or for store toys…", points out the entrepreneur Patrícia.
3. Doubt: knitting or crochet?
Hmm, you loved them both, but you don't know which one fits best with the little room? The architect Fernanda simplifies: "ddepends on the proposal of the environment. It's interesting merge the two textures prioritizing the technique that best suits the room you create, whether it is more delicate – using knitting – or crochet in more striking pieces and three-dimensional weave".
4. Remove possible outbreaks of allergies!
Wool and acrylic material of some lines can indeed cause allergies in the little ones. Therefore, the tip is, of course, to sanitize the baby's room, wash the pieces that are exposed or used more often and prioritize items that do not come into direct contact inside the baby's crib.
"O ideal is to choose hypoallergenic threads or even opting for knitted yarn crochet, which, in addition to being anti-allergenic, is super sustainable and modern", explains Pati Cillo.
Pillows or blankets on support beds, towel rails, baskets on shelves and amigurumi animals in the decor can be items that bring comfort to the decor without actually being in constant contact with the baby.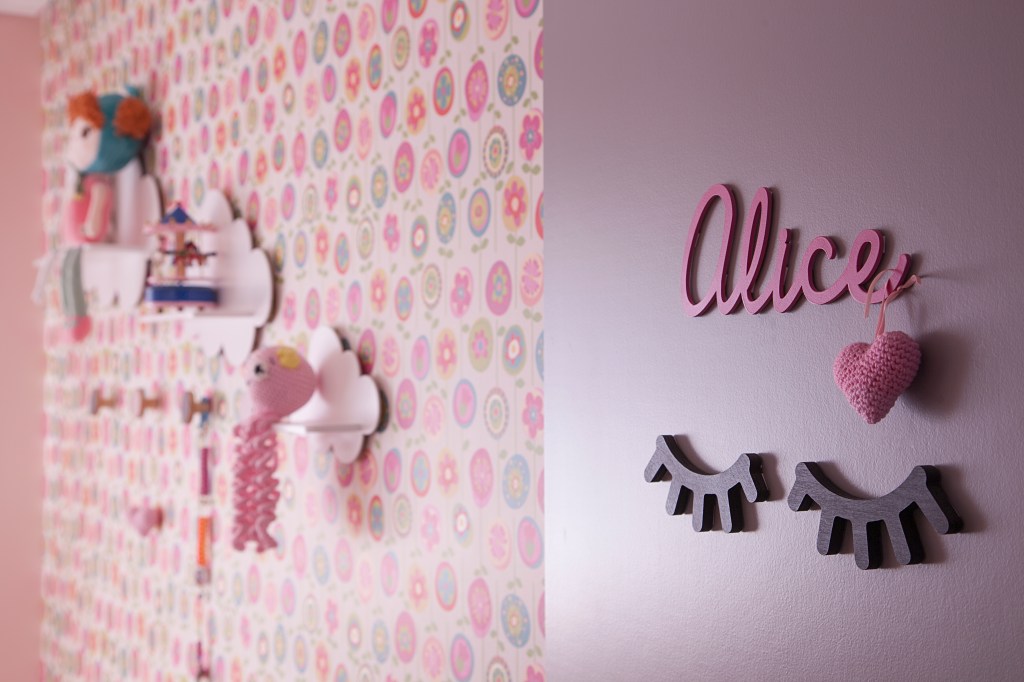 5. And if you liked the tips, how about adopting them? See a selection of products with this inspiration:

1. Mermaid tail blanket. AmyHomie, R$ 449

2. Pink crochet puff 38x38cm. Crochet, R$ 350

3. Single blanket Maxi Tricot 0.60×1.50m. MAGMA, R$ 479
4. Crochet rug for Children's bedroom handmade. Orchard Decorations, R$ 359,90

5. Puff Crochet insert. Stay Puff, R$ 477,99
6. Kit tricot footboard 180x60cm + 2 pillow covers 40x40cm. Allstate, R$ 329,99

7. Thick knitted plush sofa blanket. Qiter, R$ 236,29
*The newsroom selected products as of August 2021 – prices subject to change. We may receive a commission for purchases made at suggested stores.
Continues after advertising